Tag: pbsmick news Melissa Tapper
by pbsmick on Aug.29, 2012, under News
Just six days out from the biggest competition of her life, Australia's top ranked table tennis player Melissa Tapper is relishing in her excitement and nerves.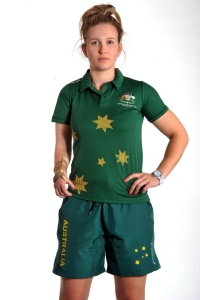 She knows she has what it takes to play well, she knows she has what it takes to win against the world's best, and ranked number four in the world, she knows she's in contention for Australia's first Paralympic table tennis medal since 1984.
"I'm nervous for sure, definitely," said Tapper, from Hamilton in Victoria.
"But I like working hard and I know I have worked hard in the last year and a half leading in… So as nervous as I am, I know I can match it with them."
But there is one uncertainty in the Victorian's Paralympic campaign – Polish world number one, Natalia Partyka.
Both in their 20s and both left arm players, Partyka and Tapper's table tennis careers both began in able-bodied competitions, with Partyka recently competing at the London Olympics, where she finished in the third round.
Despite their similarities, the pair has never met across the table tennis table and could for the first time in London. And Tapper is ready.
Before joining her teammate Rebecca McDonnell and the rest of the Australian Paralympic Team at the APC's pre-Games staging camp in Cardiff, the 22-year-old spent three weeks in Poland training with the country's national able-bodied team.
"She went there to get some good quality hitting in the lead up to the Paralympics. In Australia there isn't the depth of players to train with so it was particularly good that she had a lot of female players to be able to compete with," said Australian Paralympic Table Tennis Head Coach, Alois Rosario.
"They were really good about it. They really enjoyed having someone new inside the hall even though the first day I trained, I beat one of the national team girls," added Tapper.
Tapper and Partyka met for the first time during Tapper's stay in Poland but only briefly, and away from the table.
Having now met the undisputed world champion in the women's class 10 table tennis, coach Rosario says Tapper is in the favoured position ranked fourth in the world, with everything to prove and nothing to lose.
"For Mel, Natalia's a bit of a target I suppose and something to aim for. I think it's really good for Mel to have Natalia… and if she gets the chance to play her, it will just be a matter of go out there and give it a crack and see where she can get to," said Rosario.
"Gold is the ultimate aim, but she's never played Natalia so they've never really matched up and seen how they've gone against each other. It will be a matter of beating the Chinese girls to get the opportunity to play Natalia."
For Tapper, the stint in Poland has provided the perfect lead in to what will be a tough table tennis competition in London.
"I was able to improve my level just in the three weeks that I was there so now it's just about maintaining it and making sure I feel good and confident with everything. At the moment I'm feeling good," she said.
"I think every match is going to be tough in London. Even if I am playing someone who I know is weaker than me, if I think "oh this is an easy match" then chances are I'll probably make it a lot tougher than it should be. I think I've got to treat every match the same."
With only Tapper(class 10) and McDonnell (class six) competing in both singles and doubles competitions for Australia, either athlete needs to win just one match to become the first Australian to do so since Barcelona in 1992.
"The girls will be going into each match, focused on exactly what they need to do," said Rosario.
"Bec's been working hard on her tactical play, she's worked on each opponent she could possibly get and worked on their tactical play and Mel, depending on her draw, she's very clear in her head technically with what she wants to do with each of her opponents."
Table tennis competition starts 30 August at ExCeL with both Tapper and McDonnell competing on day one.
Leave a Comment
:
pbsmick news Melissa Tapper
more...