by pbsmick on Apr.17, 2012, under News
The Australian women won the second division which therefore qualifies them to participate in division one at the next World Team Championships in 2014.
The women's overall ranking was 25th.
The men had an outstanding performance as well, having just moved up to division two due to their ranking in Moscow. The men placed 35th in the overall grading.
Both the men and women improved their ranking by 15 positions each compared to the last World Team Championships in Moscow, (Men – 50th, Women 40th).
Exceptional recognition goes to Jian Fang Lay with only one loss and William Henzell with only two over the whole tournament.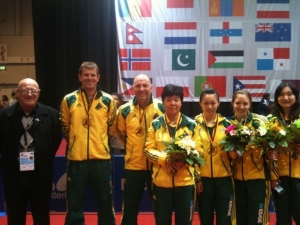 :
pbsmick news